The Middle East's Only Dark Sky Park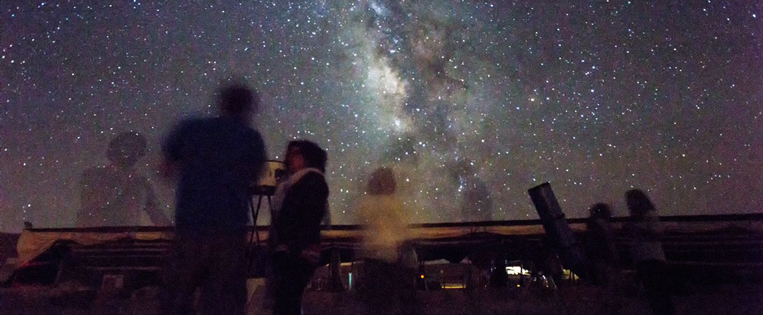 The skies darken and the desert sands around you fade away as the last rays of the setting sun slip away over the horizon. In the deepening twilight above you first one, then another, then thousands of stars begin to glimmer against the glowing backdrop of the Milky Way. A cool breeze carries the rich aroma of burning cedar from the campfire, mixed with the sweet smell of fresh tea bubbling nearby. Long forgotten are the phone calls and emails, the trappings of the modern world. You are now reconnecting to long-forgotten instincts encoded in thousands of generations of DNA as you experience true nightfall in all of its majesty.
Welcome to the Ramon Crater Dark Sky Park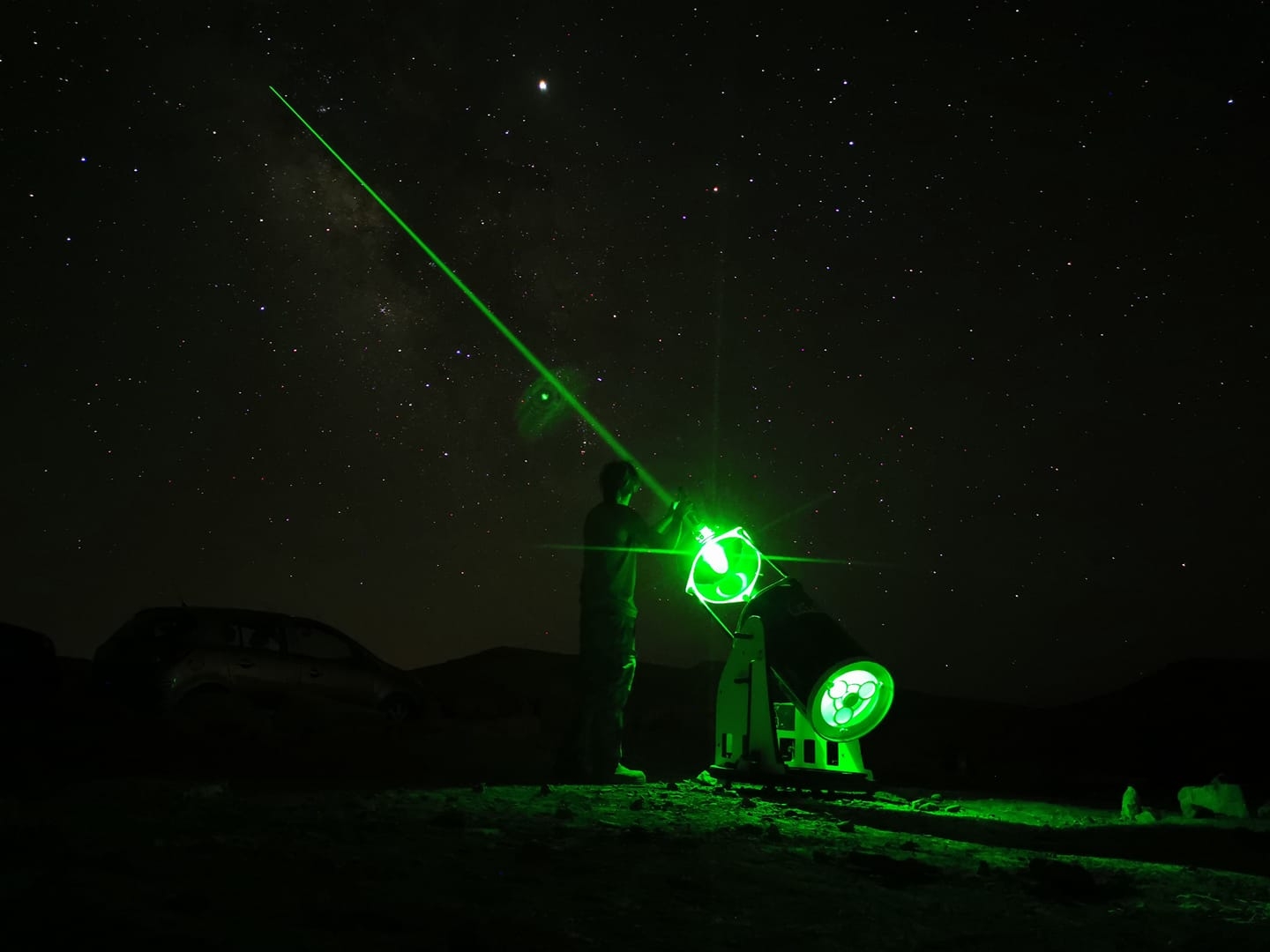 With a good telescope and a knowledgeable guide, the vast expanses of space become a living laboratory of nebulae, star clusters, galaxies and more
How many stars can you see in the night skies above your home? If you're like the majority of people in the world it may only be one or two dozen. If you live in a major city you may even be able to count them on your fingers – perhaps even on one hand! In the Ramon Crater, on the other hand, a good night will enable you to see between two to five thousand stars.
And embedded within this rich tapestry of background stars lie a rich selection of objects that reveal to us the history of our cosmos. Bright young star clusters containing the youngest stars in our galaxy. Brilliant planets that could harbor clues about the origins of life in our solar system. Ancient galaxies that can teach us about the early years of our universe and how this whole universe came to be.

History and Philosophy of Science

Stand on the shoulders of giants – from Newton to Einstein to Penrose – who progressed our understanding of astronomy and the fundamental physics at the heart of reality 

Intro to Astrophysics

Explore the lifecycles of stars to understand how these cosmic pressure cookers shape the universe around us on the most fundamental level, creating the very material from which you, I, and the entire galaxy are made 

Celestial Navigation

Navigate the skies the old-fashioned way as you learn the secrets of celestial navigation that enabled humankind to first learn their place on Earth by learning the place of objects in the sky.

Space Exploration

Discover the current and upcoming missions in the works at NASA and around the world that will take humanity further and further into the final frontier.

The Nature of Reality

Challenge the most basic assumptions you have about existence and reality as you come face-to-face with cosmic forces so powerful they will leave you wondering what and when you really are.

And Some Beautiful Views, Too

Before we get too ahead of ourselves, it's important to remember that above all else, stargazing is a chance to enjoy some objectively beautiful views.
A few friends, a telescope, and a sky full of stars – what else does a person need? Stretch out on a mattress next to a bonfire as Ori takes you on a 2-hour guided tour through the heavens above you.
Activity includes an hour of naked-eye astronomy, an hour of instruction by the telescopes, and a small bonfire with fresh herbal tea.
From ₪ 1900
Celebrating a special occasion? Looking for a truly unforgettable night? Take a deep dive into the magic of the heavens around you with a special evening in the solitude of the Ramon Crater Preserve.
Enjoy a bottle of local wine, artisinal cheeses, fresh seasonal fruits and homemade pastries as you settle in for a fascinating evening exploring the world of astronomy and the paradoxes that lie at the core of existence.
You will never look at the skies the same way again.
From ₪ 3200
Max Planck was a gifted pianist, Einstein was a lifelong violinist, and Galileo was rarely seen in his later days without his lute. It is no coincidence that astronomy and music, two fields that strive to express cosmic truth, so often go hand-in-hand.
Elevate your evening to a higher level with musical accompaniment from Mitzpe Ramon's Internal Compass music conservatory.
For most of human history, people ended their nights with a hot meal cooked on a bonfire under a canopy of stars. Local chef Keren Felikman will take you back to the earliest form of human hospitality, with stews, salads, meats, and bread prepared on an open fire beside you during the course of the evening. A meal that will leave your stomach and your soul feeling equally satisfied!
Israel is home to 21 species of scorpions – and many of them can be found right here in the Negev! As the sun sets, the stars come out and the daytime heat fades, these ancient arthropods come out of hiding to begin their nightly hunt for insects.
Let the kids burn off some energy as we explore the desert and learn about the remarkable adaptability of biology that enables life to thrive even in the most extreme environments.  
Looking to add an extra "Wow" factor to your evening? Light up your night with a special performance by Neo the Star Lord. Children and adults alike will be captivated by this unique and beautiful performance. 
... read more One of the best experience in the negev ! Proffesional and interesting review of our solar system and beyond with different types of telescopes .

Adam Mados


June 10, 2019

... read more Encourage more people, especially the youth to connect with astronomy and science in general on a personal level.

Yonatan Rachmany


August 7, 2019

... read more היינו בתצפית כוכבים משפחתית עם אורי במכתש רמון. אורי, עם אישיות סוחפת וידע עצום העביר לנו לילה מרתק ומהנה לשלושה דורות יחד. הוא דאג אירוח כיפי ונח וכולם נהנו מאוד. בהחלט נשארנו עם חשק לחזור. מומלץ בחום!

Nir Rubin Ben-Haim


August 22, 2020
What are you waiting for?
Please fill out the form and we'll call you back as soon as possible